April 14th, 2008
I'm so excited. This whole time I just felt like, almost assumed, we were having a boy. Its kind of neat to know I wasn't wrong. Mothers intuition perhaps.
I think today is when the whole thing became more real. It was really nice to be able to see our baby boy and see for myself that he had all his limbs, all his organs, and no cleft pallet. He's actually quite cute too! When they were checking his lip for a cleft pallet they had to get in real close. We were able to see his face pretty well, including his cute little nose. Also he was moving his mouth like he was chewing or just finished eating.
The ultrasound technician asked if I had just eaten lunch because he was very active. I guess he likes how japanese food makes him feel! Me too.
We saw him put his hands up to his face, roll over, uncurl his body, and kick his legs. Right now all the moving seems so cute. I'm guessing I won't feel that way in a few weeks when those little kicks are getting me in the ribs.
Here he is on his side facing us. Head on the right of the shot. He is holding his arms up by his eyes, and that is his knee on the left.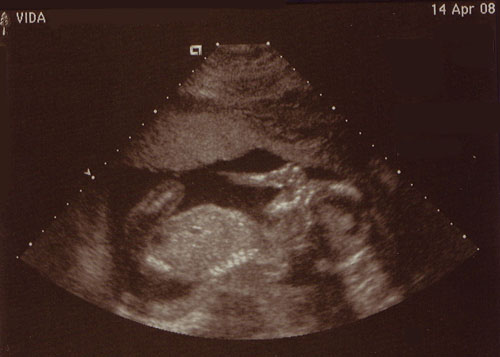 And finally here is the money shot… This one shows off his boyhood. No mistaken.
(Just like Ronin, we are hoping this is the first and only time his boy-parts will be on the internet.)